Blog
As much as we fear tornados and take every possible step to avoid ever encountering one in person – at least outside of a fortified, tested storm shelter – most of us find ourselves entranced by these acts of nature when we see them on TV or watch the aftermath on storm chasers' YouTube channels. These terrible beauties are surely destructive, yet it's natural to be fascinated by their sheer size and power, even while we pray that one will never hit our own town. For this month's blog we've investigated some of the biggest tornados in...
read more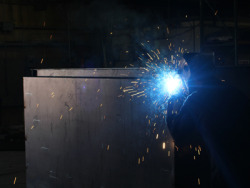 At Supercell Storm Shelters, all of our shelters are tested by and pass the intensive Debris Impact Test, held by the Texas Tech Wind Science Research Institute. Along with being selected twice by the magazine Popular Science for the "Most Awesome College Lab" awards, the researchers working at this lab provide essential testing services and studies to help protect residents in the tornado belt, as well as anyone else put at risk by severe storms. So what goes on in their laboratory? Debris Impact Testing This lab – which is used to test...
read more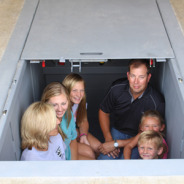 It's unlikely that any severe storm will lead to a collapse of infrastructure such that residents are left without electricity, or unable to procure basic supplies like clean water and food, for any extended period of time. However, as evidenced just last winter by the debilitating snow storms all over the U.S., as well as in infamous natural disasters such as Katrina, sometimes power outages and other damage caused by storms can wreak havoc for far longer than we are prepared to deal with. We hope that the following easy-to-follow advice can...
read more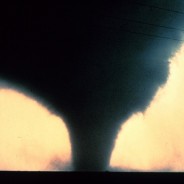 5 Tips for Community Preparedness during Tornados and Severe Storm Events While tornados and other dangerous weather events may strike without warning, there are steps that families and communities can take far in advance to help mitigate the injuries and loss of life that can be the sad consequences of these disasters. Those in charge of community spaces, such as rec centers, schools, churches and gyms, should come prepared with a carefully outlined plan to help guide others to safety and ensure that everyone is accounted for. We've put...
read more
Making it through a tornado is hard for everyone, but if you have a family you know how frightening these storms can be for children, especially the very young. While a tornado is usually a quick event, some can last an hour or more, and all require planning to help make this difficult time go as smoothly as possible. Use these tips from Supercell Shelters to help you make a plan to keep your children safe, distracted, and as calm as possible during a tornado or another natural disaster. 1. Avoid watching or listening to news coverage of...
read more
Tornadoes are frightening events that strike without much warning. They are typically concentrated in the "Tornado Alley" region of the Midwest, but in the United States, tornadoes have been reported as far east as New York City. If you live in an area with any risk of tornadoes, you might find yourself asking: Where do I start? But with some key precautions, you have a high chance of surviving a tornado. Supercell Shelters has some advice to help you get started. Prepare a Survival Kit Typically, tornadoes last around ten minutes, but some...
read more
Tornado, twister, cyclone—whatever you call these massive storms, they're never good news. Tornadoes cause tragic deaths and property damage every year in the United States, and with so much conflicting news and word-of-mouth information about them, it might be difficult to sort out fact from fiction. But believing myths about tornadoes can be dangerous or even fatal. Learn the truth about these five common tornado myths—it could save your life. Myth 1: Overpasses Are the Safest Place to Be During a Tornado This myth took root when, in 1991,...
read more