Safe Rooms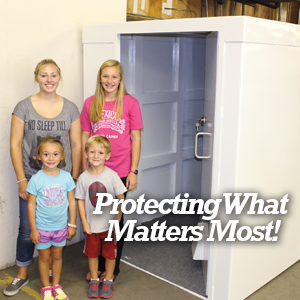 Supercell Shelters Above Ground Fortress Series Safe Rooms are designed to be installed in garages, patios, or on outside pads. Our Above Ground Storm Shelters are unmatched in design and strength.
SAFE ROOMS WITH A UNIQUE DESIGN:
First of all, our Above Ground Fortress Series steel safe rooms have a solid one piece top and floor as well as seamless walls. In addition, the inside of our Emergency Storm Shelters are reinforced with 4" Structural Channel. This strengthens our shelter for better protection from any object that may impact it. Our design is unmatched by anyone in the industry.
HEAVIER MEANS SAFER:
Our Fortress Safe Rooms will typically weigh more than twice what most other Above Ground Shelters do. Furthermore, rather than using plate steel and stitch welding each individual piece together, we have a "seamless" design. This is the main thing that makes our Above Ground Storm Shelter different. Due to our inside manufacturing capabilities, we are able to drastically reduce the number of components required to create the shell of our steel storm shelters. As a result, this unique design both eliminates leak paths and significantly strengthens our steel tornado shelter. Other company's tornado shelters have a greater chance of welds breaking, putting you and your family at risk.
UNIQUE ANCHORING SYSTEM:
Our anchoring system is unique.  Our installers receive training to customize the anchoring of our steel tornado shelter to meet the strongest strength rating possible for your tornado protection. All concrete slabs are not the same, so the anchoring shouldn't be either. So, if you want the strongest possible anchoring system available, there's only one choice, "Supercell Shelters™"
MULTIPLE PURPOSES:
Supercell Shelters™ Saferooms have multiple purposes:
1. Safe Room – Protection from tornadoes and severe weather.
2. Panic Room – Protection against intruders.
3. Secure Room – Protection of valuables against theft.
Our high quality designs, precision manufacturing standards, afterthought, and local service make Supercell Storm Shelters the clear choice to help your family prepare for the "next round". Please compare our unit with others on the market. Do your homework, then put your trust in the only company around that takes responsibility for every single aspect of building, selling, and installing the best tornado safety shelters available. You will not find a more dedicated, compassionate, or resilient company to protect what matters most!