Inside the Texas Tech Wind Science Research Institute's Debris Impact Test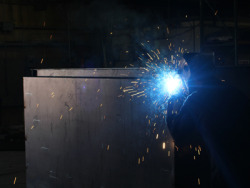 At Supercell Storm Shelters, all of our shelters are tested by and pass the intensive Debris Impact Test, held by the Texas Tech Wind Science Research Institute. Along with being selected twice by the magazine Popular Science for the "Most Awesome College Lab" awards, the researchers working at this lab provide essential testing services and studies to help protect residents in the tornado belt, as well as anyone else put at risk by severe storms. So what goes on in their laboratory?
Debris Impact Testing
This lab – which is used to test above-ground shelters and various shelter materials and constructions – features a pneumatic cannon that can produce stimulated winds of up to 250 miles per hour. This cannon launches debris of the variety that may impact a shelter in a real-life storm situation, which it fires at above-ground shelters or materials to test their capacity to withstand impact.
Above-Ground Shelter Testing Protocols
Above-ground shelters are tested against 5 different protocols, which range from the lowest expected projectile speed (Protocol 1, using a 9 lb. 2"x4" piece of wood at 34 mph) to the highest expected conditions (Protocol 4, which pits shelters against a 15 lb. wood 2"x4" shot out at 100 mph, or Protocol 5, which adheres to Department of Energy impact standards not currently listed on the Institute's website).
To see the results of the most recent Supercell Shelter tests, you can view the Debris Impact Facility report.
Below-Ground Shelter Testing Protocols
Below-ground shelters are held to the same standards as above-ground shelters, according to the protocol listed on the Texas Tech University's website. The most recent testing of Supercell Shelters' below-ground in-garage floor shelter doors can be viewed here.
Owning a tornado shelter does more than just provide a safe place for families to go in the event of a catastrophic wind event. It also allows homeowners a priceless sense of reassurance and peace of mind that their loved ones will be fully protected through a dangerous storm, whether they are home to help them through it or not. To start the process of acquiring a tornado shelter in Huntsville, AL, or surrounding regions in MS, we invite you to visit www.supercellshelters.com/contact-us to speak with a representative today.