Underground Storm Shelters
Supercell Shelters™ combines over 50 years of experience in industrial design and manufacturing of home tornado shelters, storm cellars, and underground storm shelters. When it comes to Underground Tornado Storm Shelters and Above Ground Safe Rooms, look no further than Supercell Shelters™. We are responsible for our product all the way from the raw steel to the completion and the installing of the final product.
OUR UNDERGROUND STORM SHELTERS ARE PROVEN AND TESTED: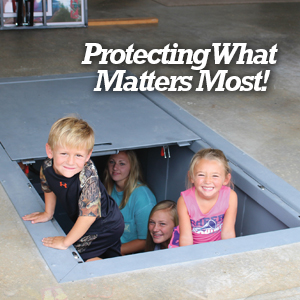 We design all of our Supercell Shelters™ in house. An Alabama Professional Engineer certifies and stamps each unit to meet and exceed the requirements set forth by FEMA 320, 361, and ICC 500 codes. Our underground storm shelters undergo testing at Texas Tech, Wind Science and Engineering Research Center. They pass all requirements to withstand the impacts of 250 MPH winds of an EF-5 tornado.
WE'RE THE MANUFACTURER:
Supercell Shelters™ manufactures every underground tornado shelter in our own 37,000 sq. ft. facility  in Decatur, AL. We have a showroom open six days a week to allow customers to see our quality and design. Our showroom sales staff is there to help you decide which size and type of underground shelter for sale fits your needs. If you are looking for an in-garage storm shelter or in-ground storm shelter we can help you find the underground shelter that's right for you. Customers can view and/or purchase our tornado safe shelters at our Showroom today.
WE'RE THE INSTALLER:
Supercell Shelter™ employees install every storm shelter, not a sub-contractor. Our mission is to help better prepare your family for the "next round" of hazardous tornadoes that frequent our area. We strive for perfection in everything we do. Our goal is to provide you with the best protection available at a reasonable price. You will not find a company with more dedication anywhere in the country. We design our solid steel underground storm cellars to install in garages and covered patios. We install our tornado shelters in both new and existing homes. These units can usually be installed in just one day.
Our underground storm shelters all have solid steel benches and removable steel steps. We design our two-piece removable sliding lid system with two things in mind. Protection comes first, then the ability of several exiting options in case of entrapment. Both doors are removable. In addition, each unit contains a winch and available hydraulic jack system  for exit assistance if entrapment occurs. The design of our underground tornado shelters provides you with the best protection on the market. Therefore, you will have the peace of mind knowing you and your family are safe during even the most violent tornadoes.
If you're looking for the best underground shelter for sale then look no further than Supercell Shelters. Our underground shelter systems are the finest available in the country.