Tornado Shelter Installation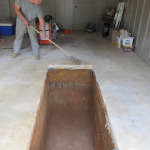 Supercell Shelters™ In Ground Tornado Shelter installation is usually done in just one day. Our factory-trained and insured installers take great care in making sure that the installation is done with as little disturbance as possible. In addition, they will leave the premise with little evidence of having been there. We have thousands of satisfied customers in Alabama and surrounding states. We hope you will be one of the next to purchase one of our storm shelters for sale! If you have questions or concerns about the installation process feel free to contact us via email on our contact page.
THE INSTALLATION PROCESS:
A major portion of our customers opt to install their in-ground tornado shelter in their garage or carport. The process used in installing the shelter is 5-fold.
The concrete slab is cut to the specified dimensions of the in-ground shelter.
Then, we remove the concrete, and a backhoe digs out the dirt to the proper depth.
The backhoe is then used to lower the storm shelter into the hole.
We pour concrete into the gaps between the hole and the shelter creating a "snug" fit.
Lastly, we install the sliding doors and finishing touches are made. Clean up is paramount on all of our jobs as we ensure that we leave your premises the way we found it.