The 4 Biggest Tornados in Recorded History
As much as we fear tornados and take every possible step to avoid ever encountering one in person – at least outside of a fortified, tested storm shelter – most of us find ourselves entranced by these acts of nature when we see them on TV or watch the aftermath on storm chasers' YouTube channels. These terrible beauties are surely destructive, yet it's natural to be fascinated by their sheer size and power, even while we pray that one will never hit our own town. For this month's blog we've investigated some of the biggest tornados in recorded history, based on both size and power, out of a rating of F1-F5.
El Reno, Oklahoma – May 31, 2013.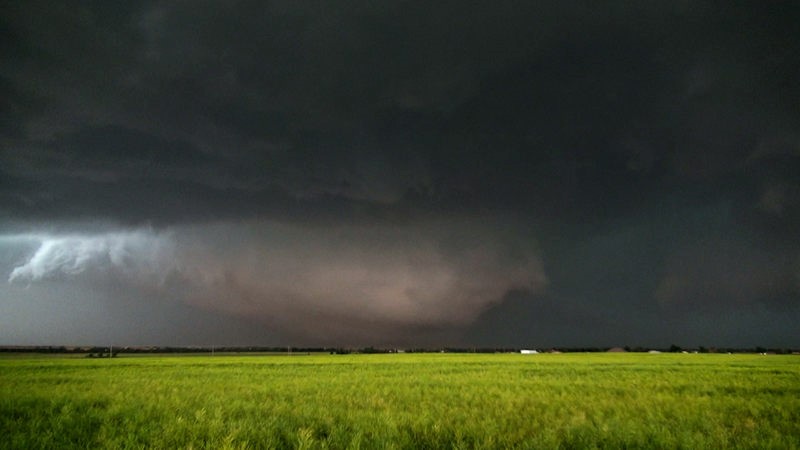 (image)
This EF5 tornado takes the cake for the category of path width, measured by the National Weather Service as an astounding 2.6 miles wide at its apex. Winds were recorded by radar as reaching an extreme 296 mph, yet this storm was something of a gentle giant, compared with what could have occurred; despite its enormous size, hundreds of lives were saved by the tornado's inability to sustain itself over the Oklahoma City freeways, where thousands of residents were attempting to outrun this monstrous storm and instead found themselves in a bottleneck. Sadly, 8 lives were lost and 151 individuals injured while the tornado ran its course; the storm also caused $35-40 million in damages.
The Tri-State Tornado – March 18, 1925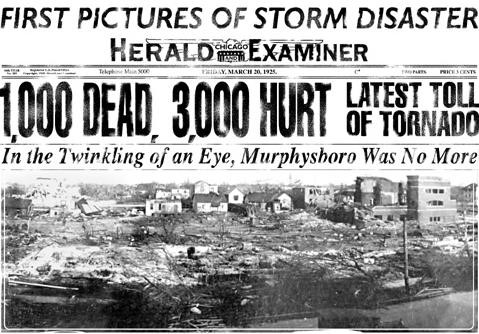 (Image)
Although experts are still unsure if the damages resulting from the Tri-State Tornado were caused by a cluster of storms or one persistent funnel, general consensus has it that this storm blazed a destructive trail measuring somewhere between 151 and 235 miles, through Missouri, Illinois and Indiana. That the storm occurred in 1925 does not help meteorologists to better pinpoint the truth of the situation, but what is clear is that this tornado was extremely deadly; the deadliest in U.S. history, in fact, killing over 747 people and injuring 2,298.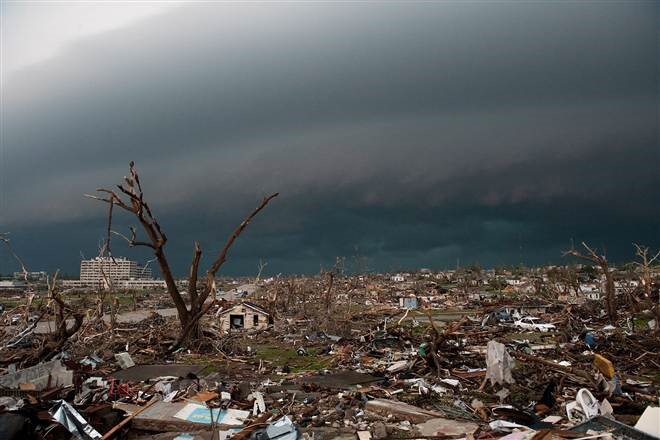 (Image)
Another EF5, this tornado counts as one large storm but contained multiple vortexes, contributing to its power and the catastrophic damage it caused in Joplin, Missouri. The staggering damages inflicted on the town amounted to $2.8 billion, and it took 158 lives. The photo above represents the second "wave" of this tornado, which moved in immediately after the first, contributing to the nearly 7,000 homes destroyed by the violent wind event.
The 2011 Super Outbreak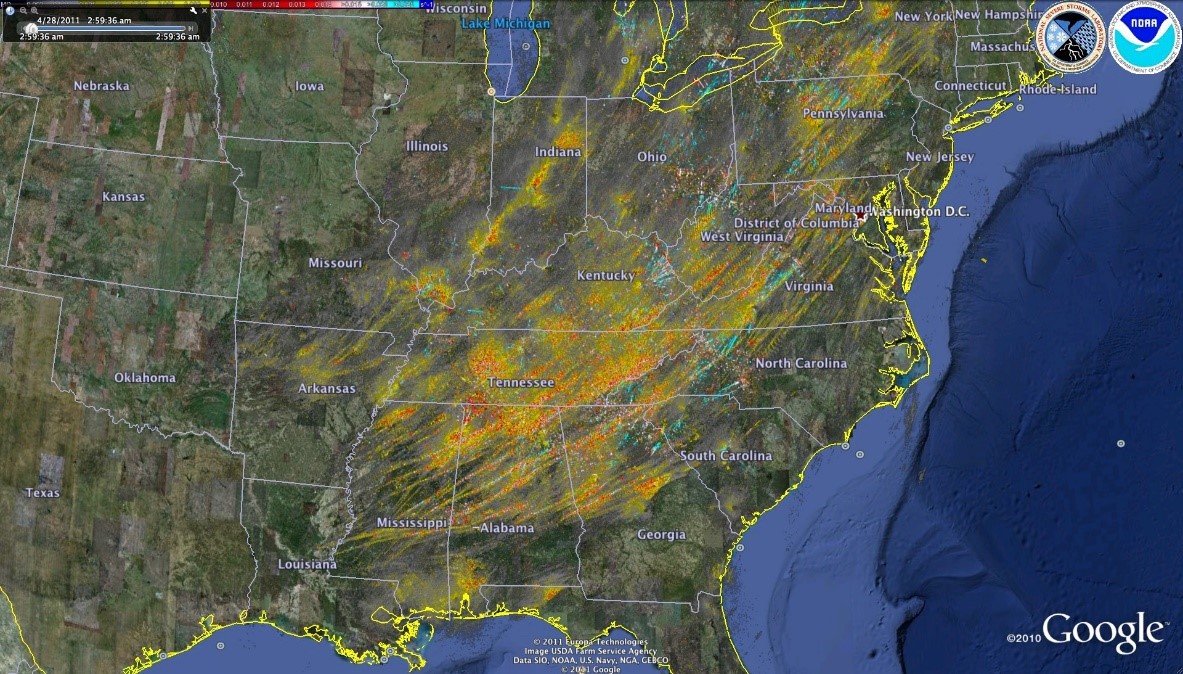 (Image)
It may not count as one singularly large storm, but we've included it because the 2011 Super Outbreak took place in the American Midwest, South and Northeast, and included states that do not normally see tornado activity, such as Virginia, New York and southern Canada. In sum, 355 tornados touched down during the 4-day event, with 211 of them occurring in a 24-hour period; sadly, these tornados' power was not diminished by their numbers, and 4 were rated as EF5's, a ranking normally only recorded less than once per year. Damages totaled a jaw-dropping $11 billion.
While these storms are thankfully rare in their size, scope and severity, tornados are a real and evidently growing threat, especially to the Midwest and parts of the South. If you're looking for a storm shelter in places like Tupelo, MS, where tornados pose a fairly constant risk to your well-being and that of your family, call us to find an affordable, secure shelter solution.